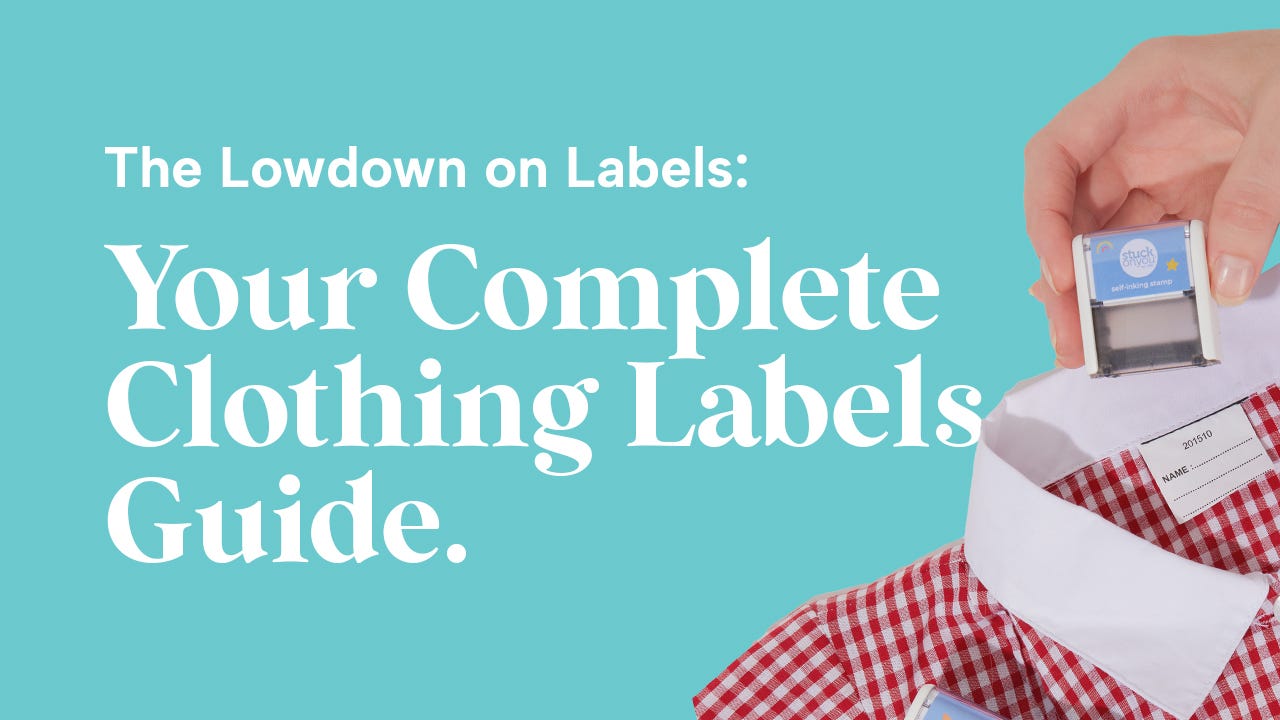 The Lowdown on Labels: Your Complete Clothing Labels Guide
Do you have a child who can't keep track of their school uniform, so you're forever rummaging in the school's lost and found pile or wasting money replacing jumpers or hats that are never found?
Or maybe you live in a share house, and your clothes constantly get mixed up with your roommates'? And if you use a public gym, you're probably fed up with losing your towels or socks after showering in a hurry to get to work in the morning or to hit the pub in the afternoon!
Whatever category you fall into, the struggle of losing clothes is real! 
We're here to help with this complete clothing labels guide. We'll show you the most effective ways to label clothes so they find their way back to you and not someone else's wardrobe! 
Different Types of Labels 
At Stuck On You, we have a range of custom clothing labels and tags to suit your labelling needs. 
Our iron-on labels are easy to use and can be personalised with all the important information to help wayward clothing find its way home: your name, address, and phone number.
On the other hand, our name stamps stamp your name directly on your clothing and accessories. These stamps work on cotton, linen, and some blended fabrics. The ink we use has been dermatologically tested, so it's perfectly safe, even if you or your little ones have skin sensitivities. 
What are the differences between these personalised clothing label options? 
| | | |
| --- | --- | --- |
|   | Iron-On Clothing Labels | Clothing Name Stamps |
| Material | Made from a blend of polyester and adhesive materials. | Uses permanent ink that is directly stamped onto the fabric. |
| Application | Apply them to clothes using heat from an iron. | Just press the stamp onto the clothing item. |
| Garment Suitability  | Visible on any garment colour. | Works best on lighter-coloured garments like white, cream, and light blues, greens, greys, and pinks. |
| Design | More customisable with multiple colours, intricate designs and room for more text.  | Simpler design, just text with the option of one simple icon and limited to one colour. |
| Durability | Water-resistant and dryer-safe. Very durable if applied correctly.  | The ink can withstand washes up to 95°C, so it won't fade on most washing machine cycles and in dryers.  |
Choosing Your Label Design and Size
For Kids' Clothing
Kids' clothing labels should be fun and easy to recognise. 
Shape:

Opt for simple shapes like

circles

or

rectangles

or fun shapes like hearts or stars that your child can quickly identify.

Size:

Mini

or

small

labels tend to fit better on younger children's clothing, while

medium

or

large

labels are ideal for older kids' larger clothing. 

Colour:

Choose bright colours that will catch your child's eye.

Icons:

Go for familiar animal, food, or toy icons your kid loves and will easily recognise. Our options also include dinosaurs, unicorns, rainbows, vehicles, and astronauts.
Start designing your kids' custom clothing labels and tags here. 
For Adult Clothing 
Practicality is crucial in clothing label design if you share living spaces or use public amenities. 
Shape:

Rectangles

offer more space for information. 

Size:

Medium to large labels are better for adult clothes as they allow for more text, including your name, address, and phone number.

Font and colour:

Choose legible fonts in colours that stand out.
Start designing your personalised clothing labels here. 

How To Use Clothing Labels 
After you've received your Stuck On You iron-on labels, we know you can't wait to see them in action! 
Follow these simple instructions to apply them correctly.
Empty all the water from your iron.
Set your iron to a medium heat setting- approximately 140-170°C- and let it heat up for two minutes.
Grab the heatproof parchment paper that we sent with your labels.
Lay the garment flat on an ironing board. 
Place your iron-on label on the chosen spot and put the parchment paper on top.
Press the iron firmly on the label for about 10-15 seconds, slowly moving back and forth. 
If the corners of the label are lifting, repeat the last step for another 10 seconds.
Remove the iron and let the label cool for a few minutes.
Wait 48 hours before washing the garment.
Lay out the item you're stamping on a flat, hard surface.
It's a good idea to test a small, hidden area of fabric to make sure it's compatible with stamping. 
Press the stamp firmly onto the fabric for a few seconds. 
Lift the stamp straight up to avoid smudging.
Avoid stamping on polyester care labels, as the ink may run. If you want to label a care tag, use our iron-on labels.
For dark garments, use your stamp on our blank iron-on labels. See the instructions in the previous section for how to use iron-on labels.
Wait for the ink to dry before wearing or washing the item. 
Clothing Labels for Kids
 
We have a wide range of customisable iron-on clothing labels for kids. If you're a busy parent, these are a lifesaver! 
We know from experience how easy it is for school uniforms and sports jerseys to go walk-about. So, our labels use fun colours and fonts to help kids identify their stuff. 
And by displaying information like their name, your phone number, and address, your child's clothing is less likely to go missing, or if it is, it's more likely to be returned. You'll save time tracking down lost clothing and money in replacing them- win-win! 
Get your kids involved in choosing the look of their clothing labels to encourage them to take ownership of their belongings, making life easier for both of you!
They can choose from various colours, fonts, sizes, shapes, and icons like animals, foods, and toys.
Label sizes range from mini to large, so there's a size to fit every clothing style.
Shapes include;
Round
Square
Triangle
Star
Heart
Shaped around an icon, e.g. a dinosaur or shark
 
The design possibilities are endless!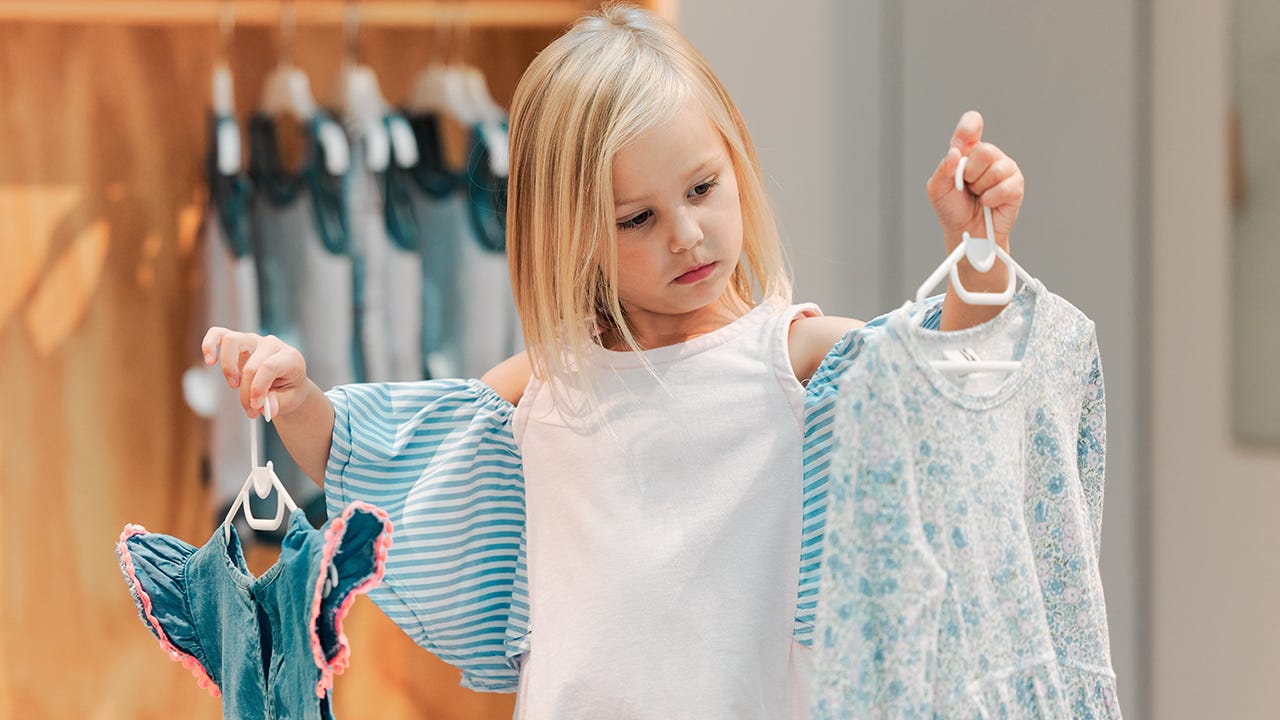 FAQs
For personal clothing labels, usually, a name is sufficient; however, you can add a phone number or address to help get your item back if it's lost.
Opt for fabric-friendly labelling methods, carefully following the application guidelines for the best results.
Permanent self-inking stamps are a great choice because they use non-toxic ink that doesn't fade or bleed.
Iron-on labels are also fantastic, adhering firmly without harming the fabric.
Kids' clothing labels must be durable and easy for them to recognise.
While permanent self-inking stamps are a quick and lasting option to pop your child's name on their clothing, iron-on labels allow you to add more information, like your phone number and address, to help any wayward clothing return home.
The best way to label your children's clothing is with fun shapes and bright colours to make it easier for them to identify their items at school or sports practice.
Stuck On You's name stamps and iron-on labels are the way to go to label your children's school uniforms.
For labelling other school items, like lunch boxes, drink bottles, stationery, and books, our stick-on name labels are perfect. They're scratch and water-resistant, so they'll withstand your kid's busy everyday life.
For fuss-free identification, stamp your child's name directly onto the fabric of their school uniform, preschool clothes, hats, and bags using a permanent self-inking stamp. This method is quick and will survive countless washes.
Alternatively, design iron-on labels featuring your child's favourite animal or toy to make the items easily recognisable to them. All you need is an iron and a few minutes, and their school or preschool clothes will be labelled with their name. You can also add your phone number and address.
Don't Lose It, Label It! With Stuck On You Clothing Labels
 
We proudly produce the best custom clothing labels and tags right here in Australia. How can we be so confident? We have over 500,000 satisfied customers and counting!
We use high-quality, tested materials, and we stand by our products. So, if you're not 100% satisfied with the quality of your clothing labels, we offer a 30-day replacement, repair, or refund. 
What are you waiting for? The perfect clothing label awaits- get designing now! 
If you have questions about our clothing labels, please don't hesitate to contact us by filling in the online form. Our friendly team will be in touch with you shortly. 
Shop our Clothing Labels Range
---