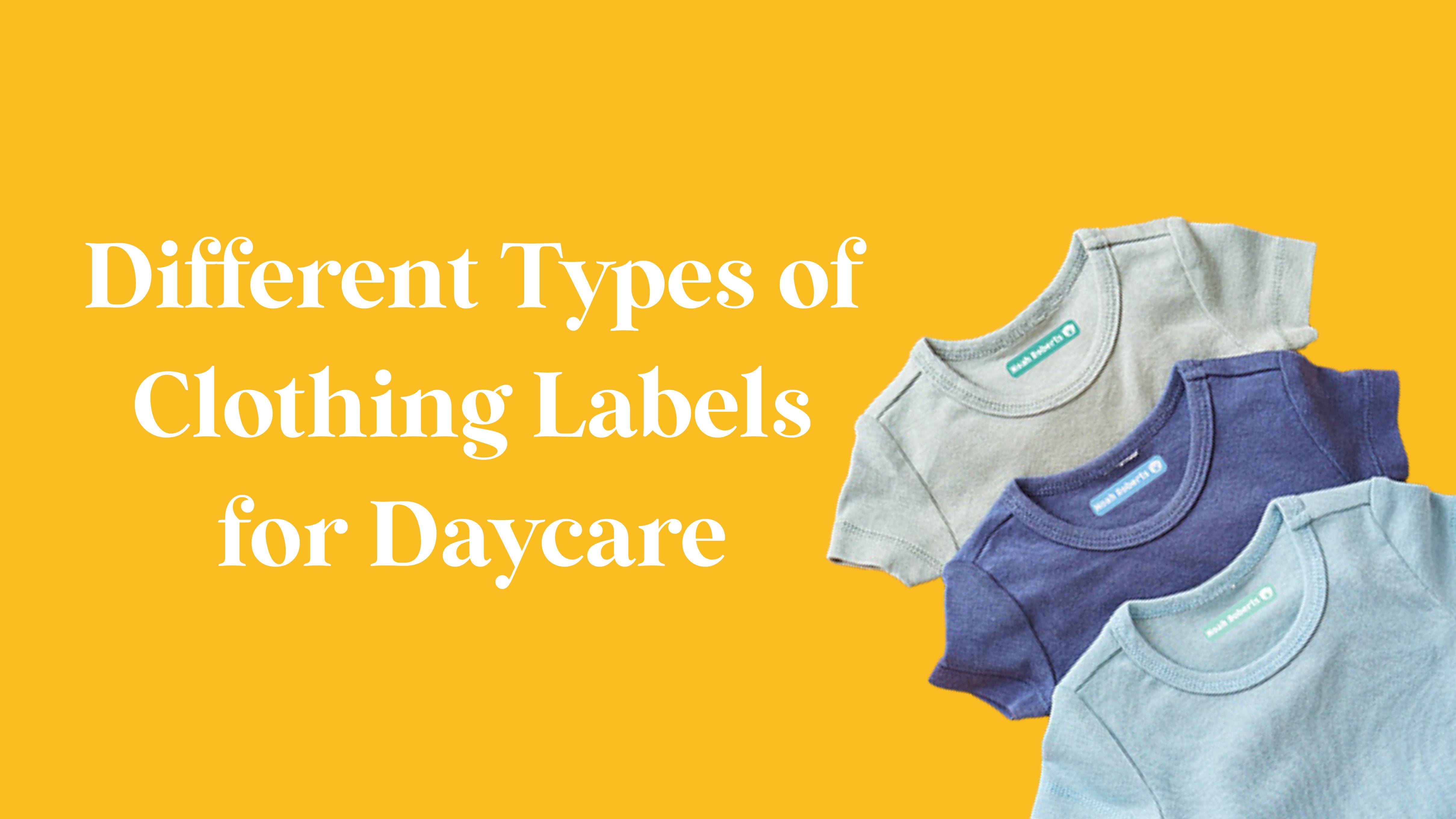 Different Types of Clothing Labels for Daycare
Sending your tiny tot off to daycare can be an emotional experience. You don't need to add any more stress to the process! So, save yourself from worrying about lost clothing with Stuck On You's selection of the best clothing labels for daycare.
But just what do you label for daycare? No matter the age of your little one, you know a second (or even third) change of clothes is always a good idea. Accidents happen! Food spills, toilet mishaps, grass, mud, textas, paint- the list goes on!
You'll want to label those extra onesies, shirts, pants, jumpers, and socks to help keep them from going missing or being confused with another child's belongings. If an item of clothing goes missing, it'll easily find its way back to you, thanks to its clear name label. 
Let's find out more about the different clothing labels available so you can decide which option is best to keep up with the busy life of your child's daycare clothes!
Best Clothing Labels for Daycare
Iron-On Labels
Iron-on labels are easy to design and apply. They only require a one-time application, and then they'll stay firmly in place through wear and tear and many wash cycles. 
At Stuck On You, we offer a fantastic variety of customisable iron-on labels for kids' clothing. Choose from various colours, fonts, sizes, and icons like animals, foods, and toys. Shapes include round, square, triangle, star, and heart.
Sizes range from mini to large, as well as mixed, so that you can find the best fit for different clothing items.
And when it comes to text, customisation can go beyond just adding your child's name. Including phone numbers or addresses will help any items that go astray be easily returned to you, saving you time tracking them down and money replacing them.
Name Stamps
Name stamps use permanent ink to stamp your child's name directly on their clothing. These stamps are self-inking, so you don't have to worry about messy ink pads or pads that dry out.
Our name stamps work on cotton, linen, and some blended fabrics. The ink can withstand washes up to 95°C, so that  it won't fade on most washing machine cycles and dryers. 
If your little one has skin sensitivities, we've got it covered with our dermatologically tested ink. 
Customisation for name stamps includes text and the option of one simple icon in one colour.
Clip-On Tags
Another option for clothes labels for daycare is clip-on tags. These small clips can be made of plastic, fabric, or leather. 
Once labelled with your child's name, clip them onto tags, seams, or hemlines of clothing garments. They won't leave holes and are great for bags, hats, and towels.
Stuck On You clip-on tags have a user-friendly tag applicator, 25 personalised tags, and 25 pins to clip and go!
Sew-In Labels
Sew-in fabric labels are personalised with your child's name and then machine or hand-sewn directly into their clothes, typically on the tag. If your sewing skills are up to scratch, these labels should be secure once attached and survive many wash cycles and normal wear and tear. 
However, sew-in labels can be time-consuming to apply, especially if you don't have a sewing machine or sewing skills. Additionally, the fabric used for most sew-in labels is usually not as strong as iron-on label material or name stamp ink. In time, the labels may fade, loosen, or fray.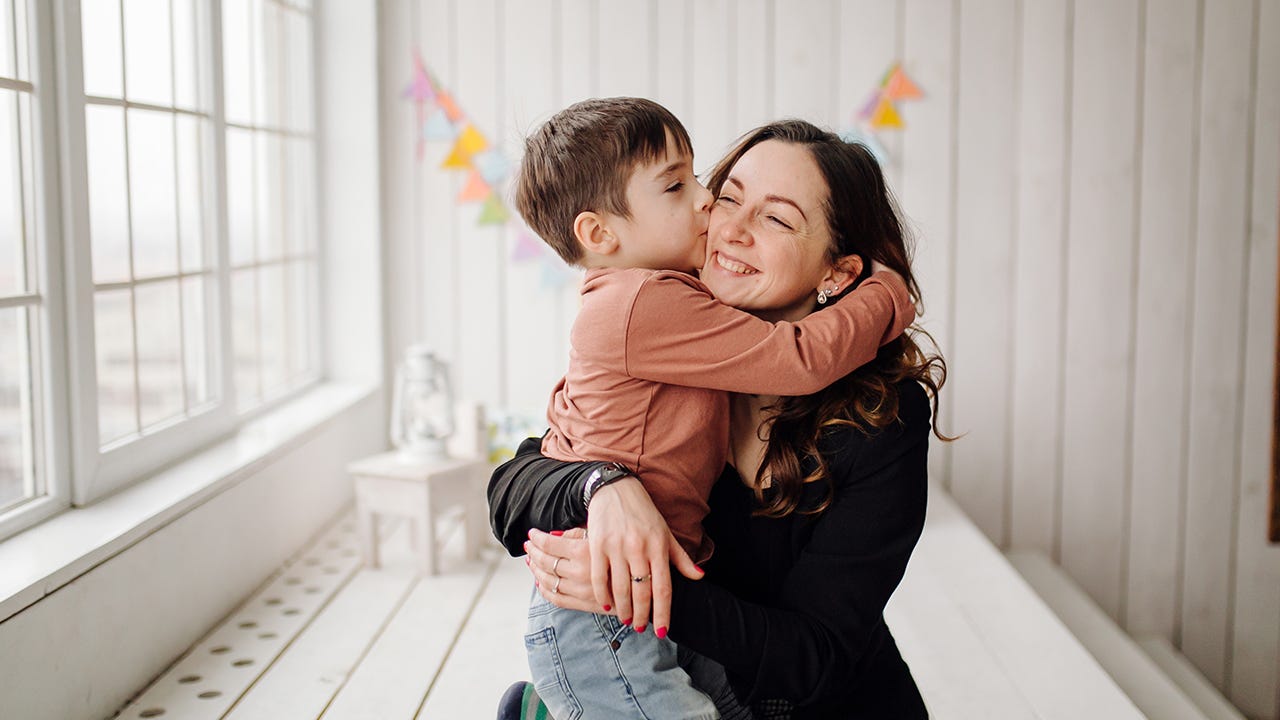 Labelling Clothes for Daycare
Follow these steps to design one of the best clothing labels for daycare clothes:
On our homepage, click the "Shop" tab, then select "Name Labels" from the drop-down menu, then "Clothing".
Choose the shape you're after from the "Category" tab.
Pick the size that suits your needs.
Select a fun design your child will recognise.
 
Choose a font and enter the text you want to appear on the label.
Decide what label pack size you need.
Double-check that all spelling, phone numbers, and addresses are correct.
Click "Add to cart" and proceed to checkout.
Input your shipping information and make payment.
We'll send you immediate proof of purchase and a confirmation email when we dispatch your shipment.
Empty all the water from your iron.
Set your iron to a medium heat setting- approximately 140-170°C- and let it heat up for two minutes.
Grab the heatproof parchment paper that we sent with your labels.
Lay the garment flat on an ironing board.
 
Place your iron-on label on the chosen spot and put the parchment paper on top.
Press the iron firmly on the label for about 10-15 seconds, slowly moving back and forth.
 
If the corners of the label are lifting, repeat the last step for another 10 seconds.
Remove the iron and let the label cool for a few minutes.
Wait 48 hours before washing the garment.
Follow these simple steps to design the other best clothing label for daycare clothes!
On our homepage, click the "Stamps" tab.
Pick your size: medium, large, or mixed (stamp and sticker bundle).
Type the name you want to appear on the stamp. 
Select an optional design from the various icons or click the "None" symbol.
Choose a font. 
Click "Add to cart" and proceed to the checkout to make payment.
Lay out the item you're stamping on a flat, hard surface.
It's a good idea to test a small, hidden area of fabric to make sure it's compatible with stamping. 
Press the stamp firmly onto the fabric for a few seconds. 
Lift the stamp straight up to avoid smudging.
Avoid stamping on polyester care labels, as the ink may run. If you want to label a care tag, use our iron-on labels.
For dark garments, use your stamp on our blank iron-on labels. See the instructions in the previous section for how to use iron-on labels.
Wait for the ink to dry before wearing or washing the item.
On our homepage, click the "Shop" tab, then select "Name Labels" from the drop-down menu, then "Clip-On Tags".
On the page, click on "Clip-On Name Tag Pack". 
Choose your font and enter the text.
Click "Add to cart" and proceed to the checkout to make payment.
When your tag pack has arrived, take the applicator and insert a personalised tag into it.
Place the applicator's jaws over where you want to attach the tag on the clothing.
Squeeze the applicator to pierce the clothing and secure the tag using a tag back from the pack to lock it.
FAQs
The best way to label clothes for daycare is often with your child's full name to give any wayward clothes a better chance of being returned. Imagine if another child at daycare has the same first name or even initials as your tot!
It depends on the policy of the daycare centre. Some request that individual nappies be labelled, while others may have a cubby for each child's belongings, including their nappies. For peace of mind, you can label cloth nappies with iron-on labels or name stamps and disposable nappies with a permanent marker.
The Sharpie brand of permanent markers is known for its ability to write on almost any surface. So yes, you can label kids' clothes with one for a quick and cheap labelling solution. However, a Sharpie won't create a clean, legible name on fabric and will fade with each wash. Better, more long-lasting alternatives include iron-on labels, name stamps, and clip-on tags.
Use Stuck On You's dry-erase bottle labels, daycare labels and bottle bands so none of your baby's bottles go missing in the hubbub of their daycare centre.
Using iron-on labels and name stamps is generally safe for labelling kids' clothing, provided the labels are securely attached, and the stamp's ink is non-toxic. Clip-on and sew-in labels, on the other hand, can pose a choking hazard if detached, so they're not the safest option for young children.
With the best labels for daycare clothes- Stuck On You's iron-on labels, name stamps, and clip-on tags! These labelling solutions are convenient, affordable, and durable.
Daycare Clothing Label Reviews
Stuck On You is the proud producer of the best labels for daycare in Australia. But we don't stop there. Our products are sold in over 15 countries worldwide! 
We have over 500,000 satisfied customers who "love the quality" of our products and how "fast and easy" they are to use.
Browse Stuck on You's Best Labels for Daycare Now!
The best way to label clothes for daycare is by using highly customisable, fun, high-quality, and resilient clothing labels. If a shirt or jumper goes walkabout, its Stuck On You clothing label will help it "walk" back home to you! 
Make your life a bit easier by designing your child's clothes labels for daycare today.
For help choosing the perfect label, see our handy Clothing Labels Guide.
And if you have any more questions, please don't hesitate to contact us by filling in the online form. Our friendly team will be in touch with you shortly!
Shop our Clothing Labels Range
---